Several early  peerage histories dealing with Sir Robert Ducie state that a Norman knight and a "Ducie" ancestor, whose first name still remains unknown, was among several Norman mercenaries who were enlisted in 1326, to raise troops and sail to England to help Queen Isabella overthrow her husband, Edward II.  She was also sister of the then-king of France and bent on seizing  power from Edward II and the despised Despencers.  Sources put the size of the invaders, organized by Isabella's Norman supporter, John of Hainault, at 700 to 3,000 men.  Some writers express amazement that such a small force could cross the English Channel from Holland, land in bad weather on the south-east coast and battle its way into London, seizing control in mere days.  However the invaders received welcoming support at every step of the way, due to hatred of the existing regime.
As a reward for helping Isabella's forces take the throne from the control of  her husband, English history says the knight "—- Ducy" was rewarded with lands in Staffordshire England.  He was probably more of a mercenary warrior than a knight.  Moreover, he may not have settled there right away.  A recent history states the mercenary force did not leave England until March of 1327, when all of them left together.   It adds that Hainault came back again in Sept. 1327, this time with 2000 mercenaries to help Isabella and Roger Mortimer in an unsuccessful war against Scotland.  If the knight "—–" Ducy was again with them, he would have had considerable opportunity to make a deal whereby he would get land and stay in England.
Sister Agnes Ducey concludes that he received a substantial grant of land near Willenhall, Staffordshire, about 100 miles northwest of London.  The land could have been between Willenhall and Walsall, at the time both small villages in the Midlands  forest, about 5 miles apart. Examination of early 14th Century Willenhall family histories find no mention of "—– Ducy."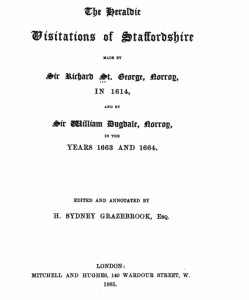 It remains to be determined exactly where this Ducey settled and his first name.  Early English sources such as Collins Peerage (1812) and Sanders History of Shenstone (1794),  leave the first name blank, i.e.  "The family came out of Normandy, and had its estates in the county of Stafford from the time of King Edward II, when —– Ducy, their ancestor, raised a regiment for Queen Isabel against that king, out of the Normans, his countrymen…"   My conclusion so far, is that this link is based on oral family history, probably as related by Sir Robert Ducie (1575-1634) or a close family descendant.
Walsall archives reveal that in 1401, a gift of Walsall pasture and meadow lands was given or sold by Alice Abell to Henry Pots, Roger Ducie, and Richard Briggend.  To date, Roger Ducie remains the earliest descendant yet found  of "—– Ducy", the immigrant Norman knight of 1326-27.
About 130 years after Roger Ducie (not the original spelling) is found in Walsall, there is more solid evidence of one of his descendants.  This is at Willenhall, where the name of Henry (1) Ducye, his wife Marjorie and their four children appear on a tax roll of 1532.
Henry (1) and Marjorie had two sons, James (1) born circa 1510 – 1520, and John (1) born circa 1512 – 1522.  They were followed by daughters Elizabeth and Agnes.
James (1)  lived his adult life at Walsall. Indications are he was already very wealthy and had married into aristocracy when we first find him there in 1563.   Historians say he became rich by selling off a large part of the original  Ducey lands.  Records show him involved in Walsall land transactions between 1563 and 1578.).  James (1)  is listed as having two sons, Richard (1) and Henry (2)..  James and son Richard  both served terms as mayors of Walsall, circa 1570 – 1611, while James was also on the Walsall council for many years.  Like his father, Richard also married very well, into the Beilston family. While listed as a merchant, he too was involved in several Walsall land transactions.  There is no further word of James after 1584 or of Richard after 1618.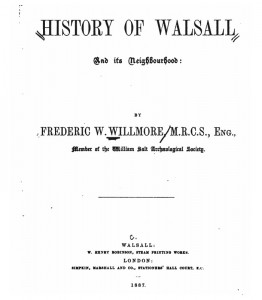 To date, we have no solid link, to John (1), who may have moved from the Willenhall – Walsall area to Worcester, 60 miles south.  From there we find  clues about other John Ducyes who may have lived there between 1420 and 1700.
Henry (2) was also probably quite wealthy by the time he moved to London in 1571 and married Mary Hardy, who also came from a notable family.  In London, Henry did very well, working for the Merchant Taylors' Guild.  He and Mary Hardy had four sons:
–Robert Ducie (1575-1634) the heir, who also joined Merchant Taylors and would become the most renowned of this family.
–Hugh (sometimes referred to as John, was the second son.
–Henry (3) who also worked for Merchant Taylors in the Orient, was the third son.
–James (2) the youngest son, is said to have been slain in Virginia, possibly while in the    employ of a Merchant Taylors' subsidiary, The Virginia Co. of London.
As mentioned, the most noted in this English family line was Sir Robert Ducie.  Like his father Henry (2) he amassed a large fortune as a banker of Merchant Taylors, one of the largest guilds in London, with economic tentacles stretching to North America and southeast Asia.
He served as an Alderman of London, and was appointed High Sheriff of London for the customary one-year term in 1620.  Robert Ducie's business success brought him into close touch with King Charles 1 of England, to whom he loaned (and lost) an estimated 80,000 British pounds.  King Charles ascended to the Throne in 1629 and created for him, a baronetcy on 28 Nov. 1629.  In 1631 he was named Lord Mayor of London. Historians refer to Robert Ducie as being the King's banker. At his death in 1634, Sir Robert left an estate estimated at 400,000 British pounds.  This included eight manor estates, residential properties in London and 26 acres of land at Walsall.
One interesting point is that between the time of Henry (2) at London, and the ascendancy of  his son Sir Robert, the spelling of the family name in England changed from Ducye  to Ducie, with Robert believed to have initiated the switch..  Yet by his death in 1634, the Norman spelling of Ducey again begins to show up and today still exists among the larger group of English Ducies.   ("Ducye" is assumed to be an early British phonetic spelling of the Norman name,)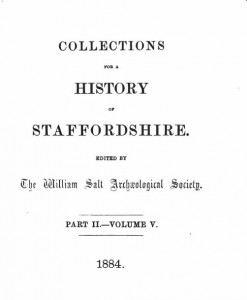 This elevated branch of the Ducie male lineage is generally acknowledged to have come to an end with the passing of Robert Ducie's four sons, Richard (2), William, Henry (3) and Robert (2).  Histories say they left no male heirs.  However, during the period, estates and titles passed to the eldest son so peerage historians paid little attention to non-heir sons.   These historians recognize that only Robert (2) was survived, by a daughter, Elizabeth.  Upon death of her uncle, William, she became sole heir of all the family's estates.  She married Edward Moreton, also from a noted family. Their son, Matthew Ducie Moreton, was created First Lord Ducie, Baron of Moreton in 1720.  That family has descended down to the present time, with a different version of the title still held in England today.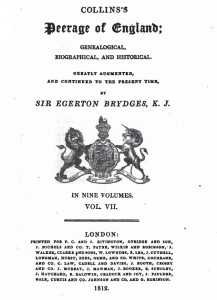 Although peerage-oriented historians mainly paid attention to Sir Robert Ducie and his immediate family, there exist clues to other Ducies/Ducyes who were also circulating in England between 1532 into the 1600s.
For example, after the death in 1654 of Robert (2) another Robert Ducie is recorded on 30 March, 1663 as certifying the Ducie pedigree that appears in The Heraldic Visitations of Staffordshire, 1664 version. It also lists a second son, Richard Ducie. These two would have been brothers of Elizabeth, who had become heir by the time uncle William died in 1697.
There may also have been other, yet unknown, descendants of the families of James Ducye(1) and son Richard (2), who were in Walsall, circa 1550 -1615.   Interestingly enough, a David Ducie has been identified as living in Walsall as recently as 2011.
Nor can we yet confirm a solid link for the younger brother of James (1), John Ducye (1), the second son of the Henry (1) Ducye family at Willenhall in 1532.
However we find a John Ducye, married to Christpiane Slie, at Trowbridge, Wiltshire in 1572.  We suspect that he could be John Ducye (1), second son of Henry Ducye (1), of Wilenhall.
Yet this marriage record does not quite fit with the John Ducye whose lands held at Worcester during the period 1533-1538, were named in a Court of Chancery, Six Clerks Office  claim, filed  about 1625-29.  This John Ducye was said to have had a wife named Alice.
Chancery proceedings before the Court state the claim was filed by "William Lowe, great-grandson and heir of John Ducye and his wife Alice," over a land claim at Northfield, Worcester, 60 miles south of Walsall.  Lowe, and later his son, was a solicitor at the Court of Chancery about 1625-29 and presumably was acting for an named Ducye great-grandson.  I have not yet found any record of the outcome of this case.
Among descendants of either of these earlier John Ducyes could be a John Ducye, listed in 1611-12, as a co-executor of a friend's will, in North Bradley, Wiltshire.  He could be the above great-grandson.  Near the end of that century we find a later John Ducy, a mason who built the original bridge at Tellisford, Wilshire in 1692.
Still another Ducye name had surfaced earlier, during the reign of Henry VIII ( 1509 – 1547).  His Majesty's state papers reveal that a Stephen Ducye, of Normandy, was granted entry and British citizenship in 1532.  There is yet no further trace of this man.
State papers also show that Sir Robert Ducie's second son, William Ducie, was licensed in 1645 "to bind apprentice John Ducie, to Isaac Lee of Hamburg, Merchant."  Lee, an Englisman, holding the title of President of the Merchant Adventurers of Hamburg, acted there as a British envoy. There is no further word of this particular John Ducie.
Records also show that a John Ducey, a surveyor of timber for the Navy, was granted 14 days of rest in September 1644.
Moreover, as you will see later, there was a John Ducey living in Ireland in 1625.