The search here is more difficult than in France and England for several reasons:
There are no "famous" Duceys among them, thus little of their largely agrarian lives in the 17th, 18th and early 19th century is recorded.
Like most Roman Catholics in the south of Ireland , early Duceys were largely tenant farmers, living under the rule of English landowners, during extended periods of rebellions and famines.
Catholics, "papists," or "popish," as they were listed in the

1766 Religious Census

, received little written,  legal status from the British government of the day. Unlike England, where land disputes and similar records went back centuries earlier, most notes about the lives of Irish Catholics were those made by the parish priest, largely involving births, baptisms, marriages and deaths.
Centuries of rebellion against British rule may have destroyed what little there was of written evidence of their individual existence.  Ironically, it was a squabble among the Irish themselves in 1922 that made the situation worse.  During attack by republican forces on Dublin Castle and the Public Records Office in 1922, copies of parish records listing baptisms, marriages and deaths, that had been centralized in Dublin after southern Ireland became a free state, were destroyed.
Almost all census records  from 1821 to 1851 were either destroyed earlier by the British government or consumed in 1922.  Early wills were also lost, and for the most part, only the indexes to them survived.
Death and exodus also took a heavy toll on oral and recorded family histories during the period.  Little of what was lost about family histories would be recovered.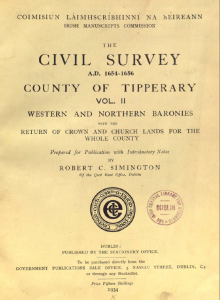 Irish population grew from 2,000,000 in 1725, to 6,000,000 by 1800 and reached 8,000,000 by 1840.  But food production for the Irish themselves, based largely on small tenant farms averaging up to 5 acres, could hardly keep pace with this growth.. The staple diet of most "poor Irish," became milk and potatoes.  Emigration due to famine actually began in the late 1700s.  Finally, in 1845, a potato blight decimated Irish crops.  Hopeless poverty and hunger combined to force millions to leave Ireland.
Many of those lucky enough to afford ship's passage had already left to seek a better life abroad.  As the famine reached its peak in 1847, some 300,000 had left for the nearer British Isles, with 100,000 more sailing to Canada. More than a million emigrants would make the 4-to-6-week voyage to the United States, an exodus that continued into the 20th century.  Only six out of seven who sailed away would survive the early sailings to North America, but they were the lucky ones.  One million of Ireland's poor died during the famine and the population plunged from 8,200,000 in 1850 to 4,200,000 by 1900.
Despite the loss of centralized church records in 1922, many original versions remained in several of the parishes from whence they came.  More of these are now finding their way to national archives and into collections.  As well, valuable historical clues can be found among a few key land survey collections, such as Tipperary's Hearth Money Records from 1665-67, the 1776 Religious Census, the Tithe Applotment Books of 1823 – 1827 and Griffiths Valuation, published  between 1848 – 1864.  To some extent, these valuable records stand as partial replacements for the lost census records.
The primary source for Ducey family history and their movements from Ducey, France to North America, remains that compiled and written by Sister Agnes Ducey, first published in mimeograph copies in 1966.   For those unable to get their hands on an original copy, a 2nd edition in the form of a 112-page book, was published a few years later (The Ducey Story and some Allied Families, (ASIN:B007ES93Q1).
As Sister Ducey's huge project neared completion in the mid-1960's, the difficulty at that time of obtaining a complete collection of rapidly multiplying Irish family records cannot be dismissed.  It was not for a lack of trying, that some information was missed by her.  Her preface contains a full page of acknowledgements to sources stretching from the then-parish priest of Ducey, France, through national and regional archives and libraries, and historical sources in France, England, Ireland and the United States.  Unfortunately, by the time she was completing her ambitious project, her final section on Ireland contained little supporting documentation.
We know that Sister Agnes arranged research at the Public Records office in Dublin and we assume this was how she found trace of Dennis Ducey, along with an un-named brother.  She guessed they were born shortly after 1700 and read that they were living in Dungarvan, Waterford Co.  Her source was the Index of Irish Wills. The wills were destroyed in 1922 but the Index survives.  It reveals that in 1783, the first year Irish Catholics were permitted to legally will their property, a will was registered by Dennis Ducey. [i]
She then pieced together other threads of research, gathered in Dublin, Waterford and through interviews with contemporary American Ducey families.  Dennis had left lands to his sons, Patrick (1), of Ballynatray, William, of Blackpool, Dungarvan and John (1), who settled in Ballyduff.  Other than family land succession listings, there is yet no further trace of Dennis.  Sister Agnes wrote that the un-named brother emigrated to New England, in 1736 and that third and successive generation descendants of this brother have since been identified, however this information is not substantiated.
She tells us that Patrick (1) of Ballynatray, in turn had four sons:
1-) Patrick (2) the eldest, was the first of his family's generation to emigrate with his wife and family to New York.  Sister Agnes puts the date as 1829 and added that he had two sons, Thomas and John, whose families became first-generation Americans..
The situation of Patrick (2)'s three brothers, is more complex.  Their surname on 1835 land records was recorded as 'Dousey and after Patrick (2)'s departure, Sister Agnes concludes they remained for a while in Ballynatray, just north of Youghal. She also obtained a copy of land records listing the tenant farms of brothers John (2), Maurice and Thomas at Ballynatray.
The property records of 1835 show each of the three rented farms of comfortable size, at least for a small family.  All were on the estate of Richard Smyth, whose English family had held Ballynatray Estate since the mid- 17th Century.
2 -) Maurice farmed on three tracts of land, totalling 26 acres, at Ballynatray Commons. Sister Agnes says he emigrated to Canada, along with brother John, (2) in 1840.  No trace of Maurice in Canada is yet found, although she states that while he settled in Quebec, two of his sons later moved in St. John's, Newfoundland.  On the other hand, Maurice Duceys are later found in Ohio, Colorado and Wisconsin, suggesting that an early Waterford Maurice (the name Maurice comes down from a Waterford clan chieftain) may have gone directly to the U.S.
3 -) John (2) is recorded as farming three tracts of land totalling 36 acres, at Coolbeggan East, Templemichael Parish.  Sister Agnes confuses him with his brother Thomas in her book, but may be correct in stating that he was the Ducy who, with his family, emigrated to Lindsay, Ontario about 1840.  My great-great grandparents, John Ducy and wife Bridget Broghan, are buried there.  In the early 1870s, six of their seven Irish-born children, along with many grandchildren, left Canada.  They joined former Ontario neighbors who had emigrated south to Nebraska and larger homesteads, near a town that they named Lindsay, after their Ontario settlement.  However, because oral family history tells us the Lindsay Duceys came from the area of Nenagh, Tipperary, we have yet to prove that it was the John (2) Ducey family from Waterford who arrived in Lindsay, Ontario, circa 1840, rather than a family from Nenagh.
4 -) Thomas (1) married Mary Ahearn in 1824 and farmed three tracts of land totalling 26 acres, close to brother John.  In failing health, he remained in Ballynatray, where he died in 1845.   However his wife, whose two daughters went to New York ahead of her, left with five sons in 1845 to join their uncle Patrick (2) and his family in New York.  The children married, and several later dispersed to Albany, Connecticut and Michigan.  Their descendants can be found throughout the United States.[ii]
William, the 2nd son of Dennis, lived at Blackpool, Dungarvan, circa 1740 -1825. He also stayed in Ireland.  Sister Agnes writes that he had three sons, John (3), who remained at Dungarvan, Patrick (3), who settled in Illinois about 1830, and Michael.  The latter married a Tipperary girl and for a while, farmed land she inherited near Nenagh.  They later sold the Nenagh farm and returned to Waterford.  Sister Agnes states they then sold property there, perhaps to another Waterford Ducey, and moved to New York about 1848.  Many generations of Duceys can be traced in and around the Dungarvan-Youghal-Ardmore area down to the present day.
John (1) of Ballyduff, the third son of Dennis, also remained behind, as did his two sons, Thomas (2) and John (3).  Thomas became a prosperous liquor dealer in Ballyduff, but several of his ten children eventually emigrated to Boston and area.  At least two of John II's children moved to the United States, one to California.
However, while not wishing to complicate this family picture any further, here is an example of the moving landscape that faces those of us searching early Irish genealogy.  Recent new information has been found that indicates families of the Ballynatray Ducey brothers lived in the same location long before and long after John (2) and Maurice did!
The website www.corkgen.org has posted fresh information concerning the

1776 Religious Census

in what was described then as theYoughal area.  It lists three Ducey heads of households enumerated there.  A John Doosey and a Maurice Doosey, identified as "Popish," are listed together.  A Philip Dousey is listed two lines below and identified as  "protestant."  My research shows that successive generations of Maurice Duceys continued to live and farm the same Ballynatray land as late as 1942.  Later generations of this John Dousey/DooseyDucey family continued to farm the 36 acres at Templemichael township into the early 20th century.  This shows that these two families farmed in the same Waterford area for at least 165 years! It not only raises the question as to whether a Maurice really did move to Canada, circa 1840, along with brother John, as Sister Agnes concluded.  It also causes us to ask, if she was correct, why did one generation of the two families leave while others stayed to farm the same property for another 100 years?
For our purposes, this completes a review of Sister Agnes' recounting of the family of Dennis Ducey, although she went on to cover the U.S. grandchildren and their families in considerable detail, into the 1960s.
Searching for Duceys in Tipperary
But what Sist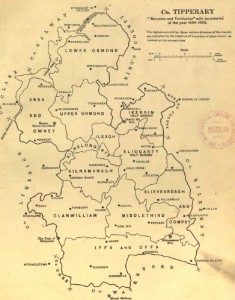 er Agnes did not do, was to look beyond the sons and grandsons of Dennis and the Waterford Duceys.
To be fair, her access to Irish records in the 1960s was limited.  We have since learned that while the majority of Irish Ducey records are to be found in Waterford, even earlier Duceys are found in Tipperary.
However, the earliest Ducey found in Ireland to date may have been an Englishman!
He was John Ducey, who was cited in a church history written and published in Dublin in 1855.  The book lists this John Ducey as being appointed as Archdeacon of the Church of Ireland (Anglican) at Ardfert, Co. Kerry, early in 1625.  But before year-end, he was succeeded in that position without explanation and there is no further trace of him.[iii]
Could this Norman-spelled Ducey be a descendant of one of the early French invaders?  Or, as is more likely, as a member of the English Church at that time, was he one of the late 16th or early 17th century Ducies/duceys from England?  Or did the book's author, writing at Dublin in 1855, change the spelling to Ducey, then more common? Note that this John Ducey is identified during the time Sir Richard Boyle, 1st Earl of Cork was running most of southern Ireland.
Some 20 years after leaving the church at Ardfert, could this John Ducey possibly have become the "capten dowse" of 1642, who Sister Agnes postulated was the first Irish Ducey?  We have yet to find definitive proof one way or the other!
One fact we do know for certain is that four decades after Archdeacon Ducey suddenly disappeared, we find another early Irish Ducey farming in Tipperary Co.
This was John Ducey, listed in the Hearth Money Records from 1665-1667 as living at Lahardan, near Twomileborris, Tipperary Co.[iv]
He is the earliest recorded Irish Ducey tenant farmer yet found.  Duceys/Doocies/Ducys have been living in that area of Tipperary ever since.
It is also within the realm of possibility that he could have been an ancestor of Dennis  and his yet-unnamed brother, believed by Sister Agnes to have been born about 1700 and  identified as living in Waterford in 1783.  Or, on the other hand, perhaps the Tipperary and Waterford Duceys are not even related!  While we have yet to find any direct descendants  of the John Ducey of Lahardan,  there were several Duceys farming in the Lahardan area in the early 1800s.  A number are listed in Griffiths Primary Valuations.
We also have a photograph of a headstone that shows a Daniel Ducy at Castlelough, near Portroe, North Tipperary, buried there by his sons in 1810, at the age of 67.  He was thus born about 1743, 80 years removed from John Ducey of Lahardan.  Portroe is only 35 miles from Lahardan so we can at least suspect that this Daniel Ducy could be a descendant of John Ducey of Lahardan.[v]
This concludes our narrative section about the search for early Irish Duceys.  We now leave you with a list of information about them, gathered from the internet.
Internet searches for early Irish Duceys
(Editor's Note:  Among the citations that follow, unless otherwise specified, information regarding births, deaths, etc., largely come from the Family History records of the Church of the Latter Day Saints and can be considered accurate.  These files are followed by the symbol "( LDS)."  Note, however some AFN family notes submitted to LDS by families involved, might not be verified.)
Searching this far back on the internet often just scratches the surface.  The most reliable way to get further information on Duceys/Ducys/Dooseys living in Ireland from 1665 to 1820 is to directly access parish records, either on microfilm at Family History centres or elsewhere.  Other options would be to hire a genealogist in Ireland, or go to Ireland yourself with a search plan prepared in advance and search for one's self.
A considerable amount of original material, but far from all of it, is now increasingly available on-line.  But much remains to be accessed in person at  county heritage libraries such as those in Waterford and Tipperary, at the Irish National Library and other relevant national collections in Dublin, and by searching original parish records themselves, where permitted.
Meanwhile a broad internet search for Irish Duceys on-line reveals the following:
–from the 1790′s to about the mid-1800s, the Ducey/Doocey/Ducy families were mainly concentrated  in Waterford, Co., with 539 matches; Tipperary lists 155 matches, while far fewer numbers are found in Cork and Mayo counties.  A Ducey family group is cited on an AFN family note  as living in the Northern Ireland county of Fermanagh Co. as early as 1750.  A Bridget Ducy is listed in County Clare in the Tithe Applotment Books, 1823 – 1827.
– 1206 matches of Irish birth/baptism records, dating from the 1720s to the year 2000.
–searches of the on-line website of the Church of Latter Day Saints, show that between 1820 and 1850, some 3200 Duceys had lived in the United States over that period.
–the U.S. Census of 1880 lists 2069 Duceys then living in the country.
–Canadian census records of 1851, 1861 and 1871 identify two clusters of Duceys living in Newfoundland, perhaps two in New Brunswick, and three or four early Ducey families in separate locations in Ontario.
–a search in mid-2012, lists some 12,000 Duceys in the United States.  Most, but not all, of Irish origin.
–in 2010, a smaller number of Ducey families remain scattered throughout several Irish counties, including some in Northern Ireland, but the majority are found in Waterford and a few in Tipperary.
–the 1901/1911 Census of Ireland contained in the National Archives of Ireland lists 43 Ducey families in detail, the majority residing in  Waterford and Cork counties.
It is not the objective of this project to pursue individual Ducey family histories beyond early Ireland, nor in France, England or elsewhere.  We leave that up to you!
However here follows what we have found so far about some early Irish Duceys.
(Please note:  All names, quotes, etc., are spelled as originally recorded.)
In Ireland: Births/baptisms/marriages/deaths — to 1840
1743 – estimated birth year of John Ducy, calculated from grave headstone found at Portroe , dated 1810:  "This monument erected by John Ducy and Danil in memory of their father Daniel Ducy who departed this life Febery the 17th 1810 aged 67 years.  May he rest in peace  Amen"
1750 – 1756 -estimated birth years of "male Ducey" and "Mrs. Ducey," parents of Penelope Ducey, born abt. 1776 , Fermanagh, Northern Ireland.  (AFN note)
1782 – John Ducy, married in a church wedding, at Cork.  No further info. (LDS)
1786 – estimated birth year of John Ducy (2nd son of Patrick II) ,a tenant farmer either from N. Tipperary or Templemichael, Waterford.  Emigrated to Lindsay, Ontario with wife Bridget Broghan and six of seven children between 1840 – 1847.[vi]
1788 – estimated birth year of James Ducey who dies at Middlesex, Massachusetts, at age 62, in March 1850.[vii]
1788 – grave stone at Dungarvan, Waterford Co., "Michael Ducy and Margaret Ducy's burial place, 1788."  St. Mary's Church of Ireland, Dungarvan.   Also: a partially obscured grave carving for "John Ducy d. Feb. 24 **58, age 60″.  Waterford Library estimates the missing numerals would make the date 1758.  If so, this John Ducy would have been born just prior to 1700.[viii]
1787 – estimated birth year of Penolepy(sic) Ducey, widow, age 84, as enumerated in the 1871 Canada Census.  Residing in Inkerman, New Brunswick with household members Daniel Ducey 46, Catherine Ducey 52, Margret Ducey 48, Anastashy(sic) Ducey age 36 and James Ducey, age 8. (This family is believed descended from Co. Fermanagh.)
1794 – estimated birth year of a John Ducy, died at Nenagh, Tipperary Co., Oct – Dec. 1880. at age 90.  No further info.  (LDS)
1799 – estimated birth year of John Ducey, who dies in 1864 at Dungarvan, Co. Waterford.  (LDS)
1804 – estimated birth year of Patrick Ducey, believed (AFN note) b. Fermanagh, Ireland and enumerated 1871 as living in Wickham, New Brunswick, age 67, with wife Martha Austin, age 70, b. N.B.[ix]
1805 – estimated birth year of William Ducey, b. Ireland, and listed as living in Cardwell, Ontario, as per Canada Census, 1881.  Wife Johanna Ducey also listed as b. 1808, Ireland and living with him in Cardwell at age 73.
1806 – estimated birth year of Wm Ducy, b. Ireland, listed in Ontario Census of 1861 as living at Wolfe Island, Frontenac Co., then age 55.
1809  - 02 February – Cahir Parish, Tipperary, Church marriage record of John Ducy to Bridget Ducy (sic).  Witnesses, Denis Flaherty and Bridget Ryan.  Priest – John Burke. This may be the marriage of John and Bridget Ducey (nee Broghan) who emigrated to Lindsay, Ontario.[x]
1810 – as per first item above: gravestone for John Ducy, Castlelough, Portroe, his sons, John and Danil (sic) erect a gravestone in memory of their father.
1810 -estimated birth year for James Ducey, emigrated to Marystown, Newfoundland, 1830 (est.) and died at Marystown, 1898.  Descendants still live there.[xi]
1812 – est. birth year of James Ducy, living in Brantford Ontario at age 40, as enumerated in the Canada Census of 1852.  Wife Margaret, age 42; with six children.
1814 – birth year of James Ducy, taken from gravestone at Dungarvan.   "Erected by Margarite Ducy, in memory of her husband, James Ducy, who died Mar. 17 1842 aged 28 years, born 1814″  Lismore Cathedral, Section 5, 5-2, Tallow Enterprise Centre, 1990.[xii]
1814 – 1871 Census of Canada, estimated birth year for Michael Ducy, of N. Tipperary or Waterford, oldest of seven children, who came ahead of his family to Lindsay, Ontario, circa 1833.  A farmer, he spent the rest of his life in Canada.  He died at Lindsay  on 2 April, 1889. Descendants of his two daughters still reside there.
1816 – estimated birth year of Dennis Ducey, enumerated in US Census of 1850, age 34, as residing in a boarding house along with four other young Irishmen, at Grafton, New Hampshire.
1824, 03 Aug. – baptism of Dennis Deucy at Dunkerin, Tipperary Co. No further info. (LDS)
1833 – estimated birth year for Patrick A. Ducey, b. Lismore, emigrated to U.S.A. 1850, d. 12 July, 1903 at Detroit MI.[xiii]
1838 – estimated birth year for John Ducy, dies July – Sept. 1923 at Nenagh, Tipperary Co. No further info.  (LDS)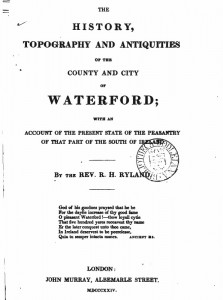 In Ireland: Land records
1665-66-67 Hearth Money Records of Tipperary
John Ducey, Lahardan, Borresleigh and Ballymurine Parish, Tipperary Co.  He is listed 11 times in the index but mostly shown as listed at Lahardan Lower, Parish of Twomileborris and at Lahardan Upper, Parish of Twomileborris.
1776 Religous Census
-  Rd. Doosey, listed as "papist" at Clonbollogue, Offlay Co.
-  John Doosey and Maurice Doosey,  listed as "Popish", at Youghal, Waterford Co.
- Philip Dousey, listed as "Protestant," at Youghal, Waterford, Co.
Tithe Applotment Books of 1823 – 1837
1823 – 1827 -Bridget Ducy, Clare
1826 – John Ducy, Birdhill, Kilcummin, Tipperary Co.
1826 – John Ducy, Ballylemon, Whitechurch, Waterford Co.
1826 – John Ducy, Junior, Killeeshaly, Whitechurch, Waterford
1826 – John Ducy, Senior, Killeeshaly, Whitechurch, Waterford
1833 – John Ducy, Ballydaheen, Ardagh, Cork Co.
1833 – John Ducy, Dungarvan, Waterford
1833 – John Ducy, Coolbeggan, Templemichael Twp., Waterford
1839 – estimated birth year for John Ducy, enumerated in the Census of Ireland, 1911 as "widower, general labourer," age 72 , living with a son, Rody Ducy, age 29 and  daughter    Lizzie Ducey, age 30, "Residents of a house 1 in Corbally (Castletown, Tipperary)"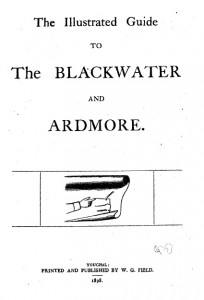 Griffiths Valuation 1848 – 1864
John Ducey, 2nd cross street, Town of Dungarvan, Blackpool, Waterford. Co.
Mary Ducey, Kilbarry, Ballinadee, Cork
Mrs. H. Ducey, North Main St., Youghal
John Ducey, Kilphillibeen, Ballynoe, Cork Co.
John Ducy, Rinnashinnagh, Kilcommon, Mayo Co.
Patrick Ducy, Tullaghanduff, Kilcommon, Mayo Co.
Michael Ducy, Kilduane, Monksland, Waterford Co.
Thomas Ducy, Kilduane, Monkland, Waterford Co.
John Ducy, Church Road, Bantry, Bantry, Kilmocomoge, Cork Co.
Thomas Ducy, Poolbautia, Affane, Waterford Co.
Michael Ducy, Town of Lismore, Main St, Lismore and Mocollop, Waterford Co.
Daniel Doosey, Clonygowny, Castletownarra, Tipperary Co.
Ellen Doosey, Curragh, Castletownarra, Tipperary Co.
John Doosey, Garrykennedy, Castletownarra, Tipperary, Co.
David Doosey, Ballylemon, Whitechurch, Waterford Co.
John Doosey, Ballylemon, Whitechurch, Waterford Co.
Thomas Doosey, Canty, Whitechurch, Waterford Co.
Daniel Doosey, Clonakenny, Bourney, Tipperary Co.
James Doosey, Ballynough, Bourney, Tipperary, Co.
William Doosey, Gortnadumagh, Bourney, Tipperary Co.
John Doosey, Birdhill, Kilcomenty, Tipperary Co.
Timothy Doosey, Birdhill, Kilcomenty, Tipperary Co.
John Doosey, Monakeeba, Thurles, Tipperary Co.
Margaret Doosey, Nicholas Street, Thurlestown Parks, Thurles, Tipperary Co.
Honoria Doosey, Ballintine, Kilmeage, Kildare
Thomas Doosey, Ballintine, Kilmeage, Kildare
Patrick Doosey, Carrowkibbock, Upper, Town of Ballycastle, Doonfeeny, Mayo Co.
Judith Doosey, Graffin, Killavinoge, Tipperary Co.
William Doosey, Montore, Rathnaveoge, Tipperary Co.
Catherine Doosey, Raheens, Kilmeadan, Waterford Co.
Edward Dousey, Deepark, Kilronan, Waterford Co.
Thomas Dousey, Deerpark, Kilronan,, Waterford Co.
Michael Dousey, Ballycondon Commons, Templemichael, Waterford Co.
John Dousey, Coolbegggan East, Templemichael, Waterford Co.
Maurice Dousey, Ballynatray Commons, Templemichael, Waterford Co.
James Dousey, Dunmoon, North Kilwatermoy, Waterford Co.
A Rate for Relief of the Poor of Thurles Union Records 1842 – 1846
1842 – Twomileborris – John Dorcey (Ducey?) – Ballydavid
1843 - Moyne – Ducey? John – Boolabeha
Currabah – James Doosey – Stradavoher
Currabha – Edmd. Doosey – Puddding Lane
1846 – 27 January – Drom – John Ducy or Dacy – Killvilcorris
From Ireland to North America 1500 – 1800s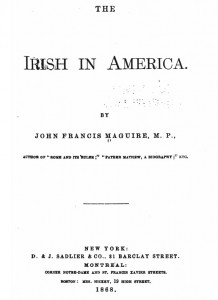 The Dictionary of American History estimates that 50,000 to 100,000 Irish came to America in the 1600s, 100,000 more came in the 1700s.  Between 1820 and 1860, as famine worsened, another 1.95 million Irish arrived.  Almost two million more had arrived by 1900.
As noted in the first birth item in the section that follows, the first Ducey to get to North America was probably an English Ducie.  Among the earliest settlements on the continent were those initiated by Sir George Calvert, an English aristocrat-explorer.  He first established the colony of "Ferryland," on the shores of Newfoundland's Avalon Peninsula in1627.  Then, seeking warmer climes, Calvert established another settlement in what became Maryland, in 1629.  However most early settlement attempts struggled and failed, especially those based on fishing.
Among the earliest of English settlers to America were those who sailed up the James River, Virginia, in 1607.  Smith's Fort was built by John Role in 1609, as part of the founding of Virginia.   The first Ducey born in America would seem to be John Ducie, born at Surrey, Virginia in 1630.  He married Phillis Fort, in 1685, widow of Elias Fort. Upon Fort's death, she inherited considerable property, which passed to her second husband.  At the time of his death in 1690, John Ducie owned some 100 acres of land in Virginia.[xiv]
Unfortunately a review of a specific list of some 200 Irish immigrants living in Virginia between 1643 and 1655 contains no Duceys.  Duceys in the America of early 17th century are difficult to find.
In United States of America:  Births/baptisms marriages, deaths:
1630 – birth of John Ducie, at Suffolk, Virginia; m. in Virginia to Phillis Champion Fort, b. England in 1634. [xv]
1715 – 11 December – birth date of Francis Dusey, son of Peteer and Mary Dusey, Roxboro, Suffolk, Massachusetts.  (LDS)
1754 – 14 November -birth date of Mary Ducey at Philadelphia PA, daughter of Adam and Mary Ducey.  (LDS)
1760 – 06 January – christening of Margaret Ducy, daughter of Adam and Mary Ducy, at Christ Church and Saint Peters, Philadelphia, PA.  (LDS)
- Philip Docy, resides at Hopewell/Newton/Tyborn, Cumberland PA. U.S. Census of 1790
1798 – estimated birth year of Ira Ducey, b. New York, enumerated at age 72, in Michigan, U.S. Census of 1870.   m. to Hulda (sic) Ducey, age 69.
1821 – estimated birth year of James Ducy, enumerated in New Hampshire in the 1870 US Census, at age 49, living with wife Ellen, age 55, also born in Ireland.
In Canada:
The first Irish fishing ship to reach Newfoundland is said to have been the Mighel, (Michael)of Kinsale in 1536.[xvi]
Regular fishing ships from England and from Ireland began arriving early in the 1600s.  For the Irish, the original attraction of Newfoundland was plentiful fish off the Grand Banks, sailing either on Irish or on English ships that had picked up crew and provisions at Irish ports.  Much of the demand for more fish came from the influx of Scots and English settlers, "planted" into southern Ireland by the British in the 1600s.  However as harsh political oppression worsened under English rule in the 1600s, it became freedom that established the real Irish immigration to Newfoundland, with 30,000 permanent Irish settlers there by the late 1700s.  Another 30,000 were estimated to have arrived by 1830.
By 1871, the Irish in New Brunswick numbered 100,000 out of a total population of 285,000 in that province.[xvii]
1815 – arrival from Ireland of Herbert James Ducey, at Pokemouche, New Brunswick.
In 1889, a Donald Ducey is listed as living on Shippegan Road, Pokemouche.[xviii]
1820 – 14 March – birth/baptism of Michel Ducey, son of James Ducy and Penny McDonald, at Caraquet, New Brunswick.  (LDS)
1829-30 – estimated Arrival of James Ducey from Dungarvan to St. Marys, Newfoundland.[xix]
1831 – 13 August – Another James Ducey purchases 212 acres of land for $20 in the County of Westmoreland, New Brunswick.[xx]
1833 – 06 May – the marriage of Patrick Ducey and Martha Austin is witnessed at Greenwhich, Kings Co., New Brunswick, by James London and James McBeth.[xxi]
1840 -  estimated arrival at Lindsay, Ontario of John Ducy, wife Bridget Broghan from Tipperary or Templemichael, Waterford, with six of seven children born in Ireland. She was buried at St. Mary's cemetery, Lindsay Ontario, 06 August, 1847.  He died at there, 06 April 1866, age estimated "abt. 80 years." [xxii]
By Sail to North America
1760 – Newspapers in Cork, Ireland advertise for passengers and fishermen to sail from Cork to Newfoundland and Nova Scotia.[xxiii]
1817 – 1835, steady listings of "ships arriving by sea" at the Port of Quebec.  In 1830 17,596 Irish emigrants arrive at the Port of Quebec.  They sail by steamer up the St. Lawrence River to Montreal, a distance of approximately 100 miles.  Most then move on into Ontario ("Upper Canada") or cross over by land into Vermont and New York[xxiv].
While sailing vessel passenger lists are now bringing us a fascinating look at the Irish immigrant experience, efforts at finding pre-1840s passenger listings, ship by ship, are still a hit or miss search.  Yet the records found so far, particularly during the "Famine Years," make both fascinating and often, heart-breaking reading, especially the reports by ship  captains and immigration officials.
1826 – E. Ducey, listed as a passenger on the ship "Lady Sherbrooke, Quebec to Montreal.[xxv]
1830 – Oct. 12 – Anthony Ducy and wife, Bridget Hurley, passengers on the "Steamer Chambly," which sails from the Port of Quebec to Montreal.[xxvi]
1832 – Thomas James Ducey, age 24, arrives by ship "Try Again," at New York, N.Y.[xxvii]
1834 – Emigrants' Handbook, distributed at Quebec, offers 50 acres of crown land to each head of a family, to be paid back at 5 shillings per acre over several years.[xxviii]
1849 – June 15 – arrival at New York, NY on ship "Juliet," which sailed from Waterford. "John Ducey, laborer," age 24, estimated birth year abt. 1825.[xxix]
1850, Nov. 27 – Mary Ducey, age 24 arrives at New York aboard ship "Nancy," which sailed from Cork.[xxx]
1850 – John Ducey, age 23, b. circa 1827, arrives at New York aboard the ship "Nancy," that had sailed from Cobb, Ireland.[xxxi]
By Sail in troubled times
Convicted Irish sent to Australia[xxxii]
Ducey, Patrick tried 1799 at Tipperary.  No age, occupation or crime listed.  Life sentence, sailed on the ship Atlas II, 1802.  (see endnote for further info.).
Ducey, William, age 26, labourer.  Tried at Cork for stealing sheep, 1837.  Life sentence, sailed aboard the William Jardine, 1838.
Ducey, Catherine, age 40, general house servant.  Single female with child.  Convicted of stealing sheep.  7 year sentence, sailed aboard the Isabella II, 1840.
Impoverished emigrants sent to Australia[xxxiii]
1840 – "Ducey, Catherine, age 16, Tipperary?  parents Daniel/Mary.  Father dead, mother remarried.   says born 19 Sept.  Ducey, Mary,  age 19, says born 12 May. Relations in the Colony: Joseph Winter, Thomas St.,  Liverpool." Ship: Thomas Lowry.  (Editor's note: these presumed sisters arrived safely in New South Wales on 16 May 1840.  Source Australia Index to Bounty Immigrants.)  (LDS)
1860 – "Ducie/Ducey, Jeremiah 1860, age 22, Birdhill, Thurles, IDJ, paid for by Michael Stapleton."  Ship: Hannah Moore.
1860 – "Ducey, Patrick,age 20,  paid for by Patrick O'Brien."  Ship: Alfred.
1864 – "Doosey, John, age 25, Castletown.  parents Patrick and Ann both dead.  Paid by Tim Kennedy, paid for by Pat Doosey."   Ship: Ocean Empress.
1866 – "Doosey, Elizabeth, age 18, Portroe, Currabu.  Parents John & Ellen, both dead.  has two cousins, Mary and Bridget Kennedy, in service, at Sydney."  Ship: Africana.
It is perhaps appropriate to end this section on Irish Duceys with items about political persecution and poverty, which along with famine, were the crushing realities of Irish life in the 17th through 19th centuries.   That this family and hundreds of other Irish family names survived over centuries in spite of these burdens, speaks to the resiliency of the Irish people.
________________________________________________________________
Endnotes:
---