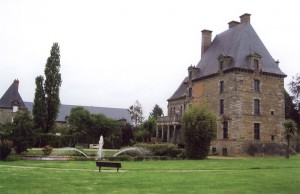 History tells us the town of Ducey dates back even earlier than Gallic – Roman days.  The north-west of Normandy was a battleground during much of its medieval existence, particularly during the Hundred Years War from 1337 to 1453, when English invaders razed most of the area.  The original Ducey chateau and its church were destroyed in 1346.  If that was not punishment enough, the Black Plague savaged europe between 1347 and 1453.
While some parts of the "Avranchin" area, such as Mont Saint-Michel, did survive, physical landmarks of early Ducey did not.  There are no traces of historic Ducey names to be found in Ducey today.  None are listed on grave markers, buildings, or in town records.  Only the name of their town survives its Ducey seigneurs of 1050 – 1300 AD.  By 1300 they  had left Ducey for other areas or their lines had died out.  Various branches of the Ducey family still live in France and now  Duceys can be found around the globe.  The movements of these families are what this project is about.
While early Ducey history can be pieced together from a few Norman historians writing in the 19th century, the first Ducey history that I ever saw, The Ducey Story, was researched and written over a 10-year period by Sister Agnes Cecilia Ducey, of Omaha, Nebraska.  With the help of Donald J. Ducey of Omaha, it was first distributed in 1966, in a mimeograph version.  It was later updated and published as a 104-page book (Adams Press, 1982).  Using just a typewriter and the mails, the aid of friends and  family members who traveled to Europe at that time, Sister Agnes gained the help of historians and researchers to access existing records in France, England and Ireland.  Her scholarship and her interest in history led her to produce an valuable  document about a little-known family that we  believe began in Ducey, France.
In 1999, I gave a copy of the first section of Sister Agnes' work to the Mayor of Ducey, Henri-Jacques DeWitte.  But it was simply an American version of local history that he already had in hand.  In 1992, the Mayor  had commissioned a brochure about Ducey and its district.  Written by Alain Landurant, a Norman historian, it is an attractive 32-page booklet with a brief summary about the early Ducey seigneurs, Robert and William.  It features historic sites in the area, particularly the Chateau Montgommery at Ducey, built at the beginning of the 17th Century by Gabriel II de Montgommery., now since restored under the leadership of Mayor DeWitte.  To most "Duceens" of today, the Montgommerys are considered the most historically important of the Ducey seigneurs.  An ancient Scottish clan, this branch of the Montgommerys had been in and out of France since the 11th century.
Mayor DeWitte took another step into Ducey's past, commissioning a full history of the town and its surroundings.  Ducey, a la recherche de son passé, is roughly translated to English, as Ducey, toward the search of its past, written by Valérie Houlbert and published in 2007 by the Ducey office of Tourism, where she was working when I met her in 2009.  This book would make any town of 2500 people very proud.  My translation of the early Ducey history in her book follows below in an appendix.